Grassanova
Grassanova
Hailing from the rolling hills of central New York State, Grassanova has been pumping out bluegrass for the past 3+years. Our repertoire runs far and wide; featuring tunes from such greats as Old and In the Way, JD Crowe and the New South, Merle Haggard, the Beatles, Pink Floyd, CCC, and Emmy Lou, to name a few. Just when you think you've heard it all, Grassanova cranks out "Won't You Come Home, Bill Bailey" followed by the Byrds "Mr. Spaceman."
Grassanova's vocals are anchored by guitarist/mandolinist Tom Quigley, a musical mainstay in Central New York. Tom's amazing vocal range is complimented by his wife Marie's vocal harmonies and acoustic bass playing. Dave Richman's's guitar playing is as tasty as it is inventive. And of course Paul Fairbanks always has something to say on the 5 string, so everyone gets a banjo fix when Grassanova comes to town!
Grassanova is a perfect choice for small clubs, restaurants, and private parties. We do several special events each year, including local town and village concert series throughout the Southern Tier. We welcome you to explore our music links below and hope you will consider us for your next event.
Thanks for taking the time to visit our site!
Tom, Marie, Dave, and Paul



Music Played with Bluegrass Style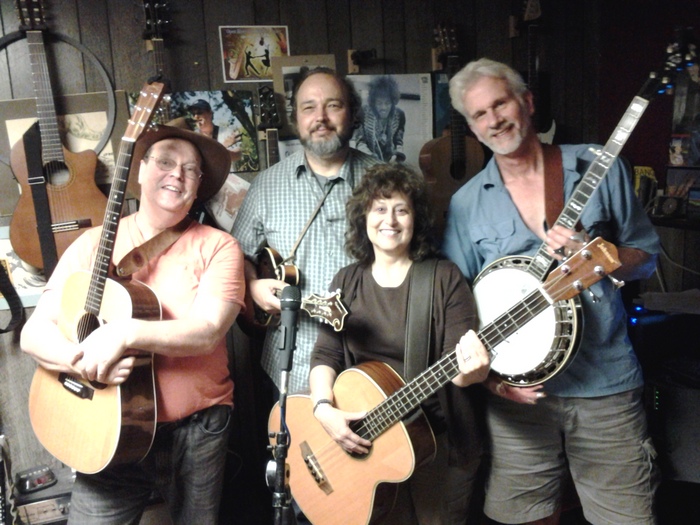 Band Members (left to right)

Dave - guitar/vocals
Tom - mandolin/guitar/vocals
Marie - bass/vocals
Paul - banjo/vocals
Photo courtesy of Carol Richman.


Check us out on YouTube!

Pancho & Left
http://www.youtube.com/watch?v=7HPKLCeE8I0

Up This Hill and Down
http://www.youtube.com/watch?v=ec-Q5Lkq4x4

Gold Rush - The Old Home Place
http://www.youtube.com/watch?v=5ukecF__N-40

E-mail Tom at gemini704@juno.com for more information.

FaceBook Page at https://www.facebook.com/Grassanova. Stop by and click "Like".


Schedule


April 14
Flynn's Roadhouse Cafe
1928 E Shore Dr
Lansing, NY 14882
7 - 10pm
FB: https://www.facebook.com/Flynns-Roadhouse-Cafe-332524766929043/

May 26
Ithaca Bakery
400 N Meadow St
Ithaca, NY
6 - 8pm
FB: https://www.facebook.com/ithacabakery
website: http://www.ithacabakery.com/
June 3
Wolffy's Grill & Marina
2943 Lower Lake Road
Seneca Falls, NY
5 - 8pm
FB: https://www.facebook.com/Wolffys-grill-marina-200740636622812/
website: http://www.wolffysgrill.com/
June 15
Six Mile Creek Vineyard
Summer Sunset Music Series
1551 Slaterville Road (Rte 79)
Ithaca, NY 14850
6pm - 8pm
website: http://www.sixmilecreek.com/
FB: https://www.facebook.com/SixMileCreek/
June 23
Depot Friday Nights
Newark Valley RR Depot
Depot Street Just off Whig St.)
Newark Valley, NY 13811
7pm - 9pm
website: http://www.nvhistory.org/
August 30
Stonecat Cafe
5315 State Route 414
Hector, NY
7 - 10pm
FB: https://www.facebook.com/stonecatcafe
website: http://stonecatcafe.com/

September 24
Americana Vineyards Winery
4367 E. Covert Rd.
Interlaken, NY
4pm - 6pm
FB: https://www.facebook.com/AmericanaWine/
September 28
Six Mile Creek Vineyard
Summer Sunset Music Series
1551 Slaterville Road (Rte 79)
Ithaca, NY 14850
6pm - 8pm
website: http://www.sixmilecreek.com/
FB: https://www.facebook.com/SixMileCreek/
October 20
Silver Line Tap Room
19 W Main St
Trumansburg, New York, NY
8 - 11pm
FB: https://www.facebook.com/silverlinetap/
website: http://www.silverlinetaproom.com/

November 17
Two Goats Brewing
5027 State Route 414
Hector, New York
8 - 11pm
FB: https://www.facebook.com/twogoatsbrewing/
Website: http://twogoatsbrewing.com/
December 8
The Westy
516 W State St
Ithaca, New York, NY
7 -9pm
FB: https://www.facebook.com/thewestyisabar/
Website: http://www.thewestyisabar.com/



Last update: May 27, 2017